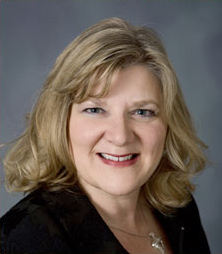 Title:
Hallmark Keepsake Artist
(Production Designer)
Started at Hallmark:
August 1997
Started at Keepsakes:
August 1997

Hometown:
Clinton, Iowa

.
Debra Nielsen's Iowa childhood bestowed her with a love and appreciation of animals. She was inspired by the horses she raised and showed with her sisters, and she's rarely been without a dog by her side. Now, with expert instinct and a careful hand, Deb creates Keepsake Ornaments that celebrate those beautiful horses and other animal friends.
Sculpting horses can be tricky, but this labor of love has become a life-long passion for Deb. Her authentically inspired designs require a sharp eye for detail that comes from a childhood of growing up around horses—and around the growing collection of models on her desk!
Deb has always loved art—and her beautiful show horses. These were, after all, the inspiration and models for her first drawings and paintings as a child. But when it came time for college, Deb went to beauty school rather than an arts program. At that time in Clinton, Iowa, an art degree most likely would have meant becoming a teacher, but she felt called to bring her vision to life on a daily basis. Ironically, she now uses her cosmetology experience to fashion the hair and makeup on Madame Alexander® ornaments.
In addition to her other talents, Deb used to sew wedding gowns, and she is able to use that fashion experience in the fabric attachments she creates for our ornaments. Deb loves the details of her job, from dreaming up new ornament concepts to the intricate sculpting detail involved in bringing her sculpts to life.
And more than a Keepsakes Artist, Deb is the proud mother of Mallory, who "expresses her art through words," has successfully achieved her Masters in Communication, and is now a proud wife and mom herself.
In Deb's spare time, she enjoys painting, interior design, exploring the great outdoors and spending time with her husband—fellow Hallmark Keepsake Artist Steve Goslin.
Keepsake Artist Debra Nielsen is an avowed animal-lover, and that love comes through in a big way in her ornaments. In 2019 Deb contributes again to the A Pony for Christmas series, along with Baby's First Ornament (which features an adorable elephant) and a Unicorn ornament that's perfectly on-trend.
Pretty Pony for Christmas (2019)
Debra has sculpted for the Pony for Christmas series before—and the series itself has been running for over 20 years.
"This premium piece is set apart by the fact that it's in porcelain," she said. "It's similar to the series, but it's an elevated piece."
Debra was excited to get the chance to experiment with a variety of materials. "This was my opportunity to use more fabric, to use porcelain…and crystals, and his saddle is actually faux leather, and it was a lot of fun to kind of dress him up." The pony's extra accessories made it possible for her to "make him more like a parade horse." Debra rode in parades and showed horses when she was a child and participating in the local 4-H group. "So this pony takes me back to those days," she said.
When people see a horse ornament Debra has designed, they often ask her whether it's the same color as her childhood horse. Not this one. "I went with a gray horse, which I thought was really pretty with the red and green Christmas colors that I used to decorate it."
Baby's First Christmas (2019)
Debra was given a lot of freedom in designing this ornament. "The sky's kind of the limit," she said, "for you to dream up a concept that uses different materials in one ornament."
A few different factors helped her decide on an elephant. "It's a classic," she explained, "and it's gender-neutral, which is important too." She also took into account current trends in baby products, and in nursery decorating. "Elephants have been quite popular for the last several years," she told me.
Debra made full use of the chance to design a mixed-materials ornament. "I'm really excited about him because he's in wood," she said. "And he also has a lot of attachments. He has a blanket, and a pull string—a candy-striped pull string—with a wooden bead, and he has little fabric ears." But she didn't stop there. "He rolls on wheels…and they use foil stamping on his body," she said.
Overall, Debra is very happy with the way all the materials come together. "He's turned out to be quite charming," she said.
Stunning Unicorn (2019)
There couldn't have been anyone more perfectly suited to designing this beautiful unicorn than Keepsake Artist Debra Nielsen.
"Obviously, I have a long history with working on the horses that we do," Debra said. But her experience with horses goes back much further than that—she has fond memories of taking care of horses with her sisters and cousin on her grandparents' property in northeastern Iowa. "It was a huge part of our life," she said, "And it kept us out of trouble, is what my Mom always said. And it was a quick way to escape, if you wanted to get away from someone who was bothering you!"
Designing the unicorn also allowed Debra to draw on her years as a hairstylist. "It was really fun to play with the hair, and make this unicorn more magical, more glamorous." Rather than creating the unicorn with any specific horse breed in mind, she gave it a magical, feminine sort of beauty.
Debra also feels that now is a great time to come out with a unicorn ornament. "I pay a lot of attention to trends," she said. "Unicorns have been so popular, that I was really excited that we decided to include one in the Keepsake Ornament line."
Overall, Debra had "a lot of fun" working on this ornament. "It was like the perfect mash-up of what I do," she said.