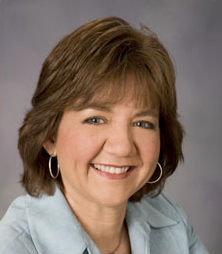 Title:
Hallmark Artist

Started at Hallmark:
July 20, 1981

Started at Keepsakes:
November 1994
Hometown:
Chicago, Illinois

Nina Aubé was telling people she was going to be an artist almost from the day she first spoke in complete sentences.
She doesn't remember it herself, but her sisters recall a nearly perfect ear of corn sculpted from children's modeling clay by the self-proclaimed future artist. And their enthusiastic appreciation of Nina's efforts had much to do with her development. The sisters would even play art-based games together, a particular favorite of which Nina called "Draw in the Dark." You can easily guess how the game was played and how much giggling took place once the lights came on and the unpredictable results became visible.
Nina's artistic gifts occasionally caused problems at school. Classmates would plead with her to complete their art projects for them. And her attention during math class would sometimes be more strongly fixed on a sketch taking shape in the margin of a worksheet than on what was taking place at the chalkboard
A running theme in Nina's art has been fashion. As a girl, she loved drawing women sporting the trendy styles of the '60s and '70s. If you look closely, you'll sometimes find unique clothing touches embellishing the signature sweetness of Nina Aubé's Keepsake Ornament designs.
Be Mine, Cookie Cutter Mouse! (2017)
1st in the Cookie Cutter Through the Year series
What happens when you take that same cookie-cutter concept and branch out to different seasons of the year? You get a fun six-part series! Debuting in 2017, the series features copper-toned cookie cutters rather than silver-toned and a gray mouse instead of a brown one. Nina had to research the correct shading for vintage copper, since all of her inherited cookie cutters are aluminum.
The scenes reflect something distinctive about each month, starting with a sweet little cottage for Valentine's Day in Be Mine, Cookie Cutter Mouse! Cookie Cutter Leprechaun has a St. Patrick's Day scene with the mouse sliding down a rainbow toward gold chocolate coins. Happy Easter, Cookie Cutter Mouse! has an Easter theme ("That's my favorite one!" Nina says) with the mouse painting a chocolate bunny. Cookie Cutter Spring has a garden with the mouse watering flowers, Cookie Cutter Summer has the mouse on a swirl-candy bicycle and Cookie Cutter Vacation is a beach scene. All of the scenes started with Nina's illustrations.
FUN FACT
I am a huge animal lover, so animals figure prominently…especially tiny animals. I grew up in the city in apartments where only smaller pets were allowed, so we always had birds, gerbils, hamsters and even a guinea pig named Charlie. I spent many hours making clothes, tiny furniture and shadowbox settings for my little pets. I loved making up fun stories about how little characters deal with living in a big world. Guess I'm still playing out those whimsical childhood fantasies as an adult.
Another major recurring theme for me: babies and kids. I love finding unique ways to capture their sweet expressions and special moments. And it's always rewarding hearing how collectors enjoy celebrating their own family milestones with my designs.
Cookie Cutter Christmas (2016)
5th in the series
Nina Aubé likes to think inside the cookie cutter.
"A big part of the challenge and the fun is creating a scene and telling a story in this tiny little space," Nina says, "and thinking of the food that will go into making that scene."
For the fifth time, Nina has come up with a new and interesting direction for her Cookie Cutter Christmas ornaments, which became a series after the first one debuted with the Keepsake Ornament Club.
Inspiration came from her grandmother's old aluminum cookie-cutter set that Nina inherited years ago. "I still have them," Nina says. The baking theme extends to almost every piece of the scene, like this year's candy-cane skates, gumdrop bushes and mint ice cream sundaes as evergreens. And because she grew up in apartments in Chicago, where small pets were the rule, the mouse has always seemed like a natural fit for the space. "I'm a city kid, and we always had hamsters, gerbils and birds," Nina says. "I still gravitate toward those—I have two parrots now."
She starts with an illustration, which is turned into a 3-D digital model. Then she uses the model to sculpt the original by hand. But even before that, she has to painstakingly research the various sweets that might work best. "I buy lots of different kinds of candy, and after I'm done with my research, I eat it," Nina says, laughing. "And I really like candy, so it works out well."
Kokomo (2016)
Nina's favorite kind of vacation to-do list?
1. Find a beach.
2. Do nothing.
That's the inspiration for this snowman on a chaise with a drink in his hand and a palm tree nearby. "Those are the places I like to chill out," Nina says. "Since he's a snowman, he's chilling but he's also melting."
Any beach is fine with her. She's been to exotic destinations like Hawaii, the Cayman Islands and Jamaica. "Hawaii is my favorite but any beach is good with me, even in Chicago on Lake Michigan," Nina says. "It brings back good memories of places I've been and makes me think of places I'd like to go."
Over the years, her family has also taken many trips to Florida and Myrtle Beach, South Carolina. "We grew up near Lake Michigan, so we've always loved the water," Nina says.
She sculpted this ornament by hand, starting with clay and a composite wood that doesn't have any grain so it can be easily sanded and cut. It's a magic ornament that plays music from "Kokomo" performed by The Beach Boys.
FUN FACT
"The inspiration for the Cookie Cutter Christmas series was my love for baking and sweets. I still use my grandmother's old aluminum cookie cutters, so that was the inspiration for the little shadow boxes where the characters live."
Cookie Cutter Christmas (2015)
4th in the series
This is from the Cookie Cutter Christmas series. The inspiration for this one was my love for baking and sweets. I still use my grandmother's old aluminum cookie cutters, so that was the inspiration for the little shadow boxes where the characters live.
I grew up in Chicago and I raised hamsters, birds and gerbils because we couldn't have bigger pets. I used to make shadow box scenes and handmade outfits to create a whole world with little characters living in a big world. Dreaming of sugar plums is something I did all the time as a kid. I've always been crazy about candy.
Clock Shop (2015)
10th and Final in the Noelville series
I inherited the Noelville series from Linda Sickman in 2012, so I've done the last four gingerbread houses. Since they're all gingerbread houses, once again I'm working with sweets.
This one is a clock shop, which is personal to me because my dad used to collect clocks. I'd go to auctions and antique shops with him, and he?d buy clocks that were in disrepair. He'd then come home and clean them all up and get them working again. I did this ornament in a cuckoo shape because my dad had a lot of those types of clocks. Plus, I have birds at home.?
Pick You Again, Friend (2015)
I grew up in the city, but I have memories of going berry picking with my two sisters and my mom. I thought it would be a cute idea to have two strawberries in an old-fashioned basket, like two friends who picked each other.
The friend I would give this ornament to is my mother. She's my best friend, she's my confidant, she's just amazing. Even if she weren't my mother, I'd still pick her as a best friend.
I was born and raised in the Chicago metropolitan area until I was 12; then I moved to a suburb of Chicago. I studied at the Kansas City Art Institute and graduated with a B.F.A. in design and illustration.
Animation of all kinds. I especially am fascinated with mechanical 3-D animation.
Everything! I really do believe you can find inspiration in practically anything; you just have to be open to it. And I've discovered ideas can strike at anytime—while watching my pets at play, from the cute things my two awesome grandnieces say and do or from a funny post on Facebook.
I also love to travel. Touring new places is always inspiring. When I traveled to Germany several years ago, I was so awestruck by its beauty, charm and history that for a while after that trip, everything I designed had a European flair. So that year, a snowman I sculpted can be seen sporting an Alpine hat complete with a feather, and the Christmas Window series featured a Bavarian-style sweet shoppe. I just traveled to China for the first time last fall, so look for Asian-inspired influences and colors in my future work.
"Be authentic and follow your passions. And don't be afraid to make mistakes."
Happy Place (when I'm being creative)
When developing a new concept, I work best alone in a quiet space with no music or distractions. My best ideas seem to come to me late at night when it's quiet and still. Once I have the basic idea figured out, I like to sculpt while listening to something in the background, like music or the TV. I also like bouncing ideas around in a group setting with my fellow artists…it's important to give and receive new points of view.
Favorite Work of Art (so far)
Aww…that's like picking a favorite child! I'll say 1999 Best Pals is probably my all-time favorite, as it depicts Santa playing with many of the pets I have personally known and loved.
As for recent faves:
1. The Cookie Cutter Mouse series. This series really celebrates the whimsical childhood fantasies I've described above.
2. 2013 Baby's First Christmas Photo Holder ornament. (It's a frame with a sweet baby cardinal in a nest holding a rattle.) I was very pleased with the way this piece turned out, but what makes this one particularly meaningful is that I was able to give it to my nephew Colin and his wife Marie to commemorate the birth of their first child, Lily Mei.
I'm very close to my mom, two sisters, niece and four nephews and their spouses. Most of them still live in the Chicago area, so I visit there often. We usually celebrate Christmas all together—mostly by eating, catching the latest movies, playing board games and more eating. My two eldest nephews became parents to the cutest little girls in the universe recently; I love photographing them and capturing their sweet faces and silly antics (for future design reference).
For fun, I love movies, junking/antiquing, going to First Fridays (I collect old dolls, toys and anything else that strikes my fancy). I also love to travel as I mentioned before…particularly to any warm place with a beach!
Here in KC I have a great group of friends whom I enjoy hanging out with. We love to go dancing, karaoke-ing, checking out new restaurants and taking day trips.
And I love playing with my three parrots: Opie, Chewy and Mouse. I'm thinking about getting a fourth bird, but holding off for fear of crossing over into crazy bird lady territory.