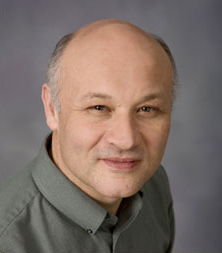 Title:
Hallmark Artist

Started at Hallmark:
October 14, 1987

Started at Keepsakes:
August 1995

Hometown:
North Ogden, Utah
Lee's Summit, Missouri
Like most preschoolers, Tracy Larsen spent a lot of time with cartoons—but instead of just watching them, Tracy studied them! He spent his childhood hours drawing characters from The Flintstones™ and Peanuts®.
He also copied newspaper comic strips, but at the mature age of eight, Tracy moved to the more sophisticated material on the editorial page. The 1968 Nixon vs. Humphrey presidential race became a favorite subject.
While looking through newspapers and magazines, Tracy started noticing the differences among artists' styles—another aspect of his self-described "knack for art." He studied everything he found around his house, from European magazine illustrations to his own personal favorite of the day: Mad magazine.
Tracy did his first sculpting with clay-like kneaded erasers, but through his schooling, moved on to higher-quality materials and projects. He produced his first serious sculpture, a bust of Muhammad Ali, while he was still a teenager. During junior high and high school, Tracy kept honing his skills in his art classes, his primary instructor/mentor being the noted fantasy artist, James Christensen. What a great program those schools must have had, since Tracy is one of several classmates now working as professional artists.
Holiday Lighthouse (2015)
4th in the series

Before Tracy Larsen moved to Kansas City 30 years ago, he and his wife often drove past a Victorian home in Salem, Utah, near where they both grew up. The image of it really stayed with him, down to the slope of the eaves and the welcoming porch.
"We'd think about how cool it would be to live there," Tracy said. "I've always liked the architecture of that era."
When Tracy started designing the 2015 Holiday Lighthouse, he wanted to blend the tower with a house much like the charming one from his hometown.
"A lot of lighthouses were built in the 1800s," Tracy said. "There are a number in California like this." A light in the tower rises and falls in brightness to simulate the sweeping of a lighthouse beam. The house also lights from within.
On each of the ornaments in the series, the same characters appear. In this scene, Santa and his polar bear friend realize the lights weren't put away properly. "It's that moment when you pull them out and it's just a giant tangle."
Years ago, Tracy would have sculpted this kind of scene in wax. But now he sculpts almost entirely on a 3D program. "The computer makes the detail work easier."
In addition to hometown memories, he consulted miscellaneous books and digital images to help him figure out the perfect proportions. And the next time Tracy designs a lighthouse? He's hoping for a cross-country trip to take a closer look.
Here Come Frosty Friends (2015)
Part of the World of Frosty Friends Mantelscapes
This year's Frosty Friends mantelscapes trio was truly a team effort. Tracy designed this sled and reindeer ornament, called Here Come Frosty Friends. Fellow Keepsake artists Tom Best and Nello Williams designed the corresponding ornaments, which connect with a Magic Cord to create a Northern Lights effect.
As mood-setting music plays, the LED lights move through a range of colors in the translucent base. "It's a really nice effect," Tracy said. When the ornament is activated, the sleigh rocks and the reindeer starts to run.
In many Frosty Friends ornaments, our main character has often appeared with just one animal friend—a husky, a penguin, a walrus. But this exquisitely detailed ornament features a winter menagerie, as well as a tree and lantern that light up. "We wanted to give this one more of a scenic quality," Tracy said. "We wanted the collectors to have something with even more oomph to it."
Little Saint Nick (2015)
Look in Tracy's office and it isn't hard to pinpoint his favorite nostalgia: hot rods. Over the years, he has collected quite a few wild cars with open engines and ridiculously fun designs. They take him back to the "Weirdo" car culture of the 1960s.
"I'm definitely a big car enthusiast," Tracy said. "I'm not a mechanic or anything. I just love how they look."
So when his project team started on an ornament that would feature the song "Little Saint Nick" by The Beach Boys, turning Santa's sleigh into a hot rod seemed like the perfect direction. "I really like the idea of combining those two worlds."
Some Keepsake artists focus on exact replicas of classic automobiles, but Tracy prefers the made-up kind. "They look like cars but don't follow a certain model or make," said Tracy, who also designed 2013's Sno-Rider—Santa's sleigh combined with a low-rider car. "Another one of my favorites."
Snow Fun Ferris Wheel (2014)
A favorite of his wife's, the Ferris wheel is a must ride at any amusement park. Tracy believes "There is a magical, turn-of-the-century romance that surrounds Ferris wheels that I believe lends itself well to the nostalgia we feel at Christmas time, so it seemed like a good subject for an ornament."
"In creating the ornament, I wanted to use a wintertime theme in both design and color. A snowflake motif for the wheel seemed like a natural fit with its six points to place carriages," Tracy shared. Snowmen then became "the logical choice as patrons for this winter adventure. They look like they're having fun as they circle around with the lights flashing and the wonderful calliope Christmas music playing. I especially like the little snowman vendor inviting us all to ride along."
In trying to figure out how to bring the magic to life, Tracy and team decided to use a pull motor to activate the movement and sound. "Encasing the motor back by the wheel gears and making it part of the design," was one of Tracy's favorite elements.
Tracy hopes everyone will "Step right up, " and enjoy this ornament as much as he enjoyed making it.
FUN FACT
Tracy's Letters to Santa Keepsake ornament from 2006 features his Daughters voice.