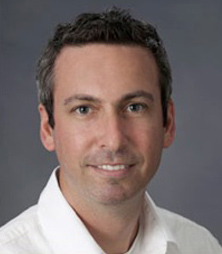 Title:
Hallmark Designer

Started at Hallmark:
March 19, 2012

Started at Keepsakes:
March 19, 2012
Hometown:
Fresno, California

Matt has designed for companies all over the United States, but his appreciation of toys has stuck with him since childhood. Toys play an especially important role in Christmas, a holiday that gives Matt the inspiration he needs when it comes to crafting tree-worthy trimmings in the Keepsake Studio. He admits "there's just so many people around here that make it feel like Christmas all the time!"
Matt graduated with an Industrial Design degree from the University of Kansas, and continues to be a student of product design as he follows his passion for ornaments, toys and games. As someone who appreciates fun, creative and offbeat entertainment for kids, the Keepsake Studio was just the place for Matt to work, but an opening wasn't so easy to come by. After a few years of working in the Midwest and along the East Coast, Matt made the move back to Kansas City with his family—and, as luck would have it, an opening in Keepsakes was waiting for him.
The work of a Keepsakes designer is a challenge, but Matt is happy to see his designs inspire wonder for kids and kids at heart.
Vintage Santa (2016)
Hallmark Heritage Collection
Meet Matt Johnson, time traveler.
When he set out to make this nostalgic nod to a vintage Santa, Matt took a trip through the Hallmark archives. That's where he found the Victorian-era postcard that inspired the look and feel of his latest creation.
"We have a huge collection of postcards, and what was so striking about this one in particular was that it had been printed with actual metallic ink," Matt says. "It was already embossed and they hand-inked some of the details in gold. It just looked really beautiful, and we wanted to carry that through to the new version."
He updated the styling and made the face more expressive, the eyes more pronounced. But as he moved from concept stage to the finished blown glass version, Matt wanted to maintain some of the character's classic qualities—not just the tone of the piece but its sense of movement as well.
"In the postcard, Santa's walking through the snow and has a big bag on his back. It has a lot of nice motion to it," Matt says. "That's one of the things we noticed about blown glass in general—a lot of the characters feel very static. So we liked the idea of incorporating more movement into it."
All the Hallmark Heritage Collection ornaments feature blown glass, another way of honoring the season's—and Hallmark's—history. And there's certainly more inspiration to be found deeper in the archives, Matt says, if you just keep exploring. "It's a cyclical pattern—all of that history of the things we've collected over the years has inspired our artists," Matt says. "Then you can see how our new artwork has inspired others on the outside and how that cycle has all been incorporated into our collection."
Geometric Snowflake Ball (2016)
Hallmark Heritage Collection
With his Santa ornament establishing a general direction, Matt started looking at other holiday icons and designs. This ornament was inspired by a snowflake textile look created by someone in Hallmark's surface design group decades ago. Matt had seen the hexagonal shape made by a glassmaker in Poland and the two things came together in his mind.
"We liked the shape of it and were trying to figure out a way to use it," Matt says. "That's when we started thinking about geometric patterns." He used the design as a base and reversed its colors. Once he figured out the basic look, he made renderings so the glassmakers could hand-sculpt the metal mold. Matt says he's fascinated by that part of the process.
"Once the glass is blown into the mold, they open the mold, pull out the piece while it's still hot and use a small torch to create the finish," Matt says. "They apply the glue by hand and then dust it with glitter to get that effect."
Gems and other embellishments accent the ornament's intricate structure. The result is a modern design that feels like a classic.
Red Poinsettia Ball (2015)
Hallmark Heritage Collection
Something else Matt enjoyed about working on the Hallmark Heritage Collection was the connection to the artists who created the images.
Case in point: One of his Keepsake Studio colleagues recently reached out to an Italian artist who had created an iconic reindeer in the 1960s. That reindeer became the inspiration for a new ornament, and she wanted to confirm the original creator's identity. She wrote him a letter (he doesn't have an email address) and he wrote back to say that it was, in fact, his design.
Matt, however, was not as lucky. His poinsettia ornament was also inspired by a design from the Hallmark archives, but the identity of the artist who created the design remains an intriguing mystery.
"It could have been done for wrapping paper or a card—it's hard to say," Matt says. "It looks like it was done on red paper with gold metallic ink. I just thought it would look beautiful on an ornament."
Matt reversed the original's golds and reds to update the look and adorned the center of each flower with large red beads. The gold petals are a combination of metallic paint and smaller beads, which creates a stunning contrast to the red satin sheen underneath.
SORRY! (2014)
1st in the Family Game Night series
By Matt Johnson & Rodney Gentry.
Talk to Keepsake Artists Matt Johnson and Rodney Gentry and it immediately becomes apparent—these guys have a blast working together. So it's only fitting that they collaborated on the first ornament in the Family Game Night series—Sorry!
According to Matt, "I think there's been a resurgence in families getting together and playing board games. And since we didn't have much in the way of video games around our house, I have fond memories of summer nights playing with families and friends."
When asked why they chose Sorry! as the first in series, Rodney replies, "During our brainstorming phase, we talked about a lot of different games, and Sorry! just kept rising to the top. It has stood the test of time…and nearly everybody we talked to remembers playing it as kids. So we went with it."
As they collaborated, Matt provided a series of 2D sketches of the game. The design was chosen. Then it was up to Rodney to bring it to life as a Keepsake Ornament. "My biggest challenge," Rodney says, "was to translate the level of excitement that Matt brought to his sketches into a 3D model."
The real game's packaging and design has evolved over the years. So the two went to great lengths to keep it relevant to game-lovers both young and old. They even combined the original game pieces along with the newer board design. Adjustments were also made to make it work at such a small scale. According to Rodney, "We tried to stay as true to the game as possible but as it gets smaller, you have to make sure it's sturdy and everything reads clearly."