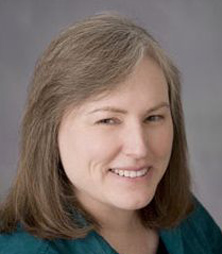 Title:
Hallmark Master Designer
(Retired)

Started at Hallmark:
October 8, 1979

Started at Keepsakes:
October 2002

Hometown:
Pennsylvania

Edythe Kegrize had an in-depth love of three-dimensional art ever since she was young. She remembers making all kinds of creations from scraps around the house, including a tiny paper television with pictures that rotated with the turn of a knob and a crèche fashioned out of laundry detergent and food coloring.
Edythe's talents blossomed with the help of her loving family. Her grandmother saved tidbits of fabric, trims and pretty papers. Her mother never hindered her daughter's creativity despite the risks of having holes cut in tablecloths or glue on the rug. From her father, Edythe inherited attention to detail, patience and mechanical curiosity that make her Keepsake designs so intricate.
While in college, Edythe majored in illustration, but also was inspired by ceramics and weaving classes. At Hallmark, she would often devise unique folding cards that brought an extra dimension to her designs. Edythe featured needlework and collages in her greeting cards and crafted several original dolls to be photographed for select card collections.
With nearly 25 years of experience illustrating greeting cards, Edythe cultivated an appreciation for a wide range of decorative surface designs, from traditional folk art to classic, elegant scrollwork. This is perhaps most evident in the details of her Santa's Around the World unofficial series.
Festive Flyer (2016)
What Keepsake Artist Edythe Kegrize likes most about this Santa ornament is that it looks as though it has been carefully assembled by hand from many pieces. Because it has!
"I think it came out great," Edythe says. "It looks really different than anything we've done before.
The Festive Flyer features etched metal over a glass ornament and mixed materials throughout the design: red and gold wire intertwined, a gold chain, gold charms, and red fabric for the flags.
Her inspiration came from whimsical, nostalgic images she found in the Hallmark archives. "I found a lot of things that were very decorative, but also playful," Edythe says. "I was loosely inspired by that kind of sensibility."
Because of the elaborate design, Edythe made a complex working mockup that included every detail. She found the right size of glass ball, roughed out the golden metal overlay, used paper to test the proportions of the basket weave against the modeling clay, and twisted the basket's supporting wires herself.
"I wanted to make sure that it could work," she says. "When it's something we haven't really tried before, I try to go the extra mile to make sure I've thought through all the intricacies of the construction."
She included a lot of crystal too, because that's one of her favorite things to add. "I always like a little bling." She imagines the balloon would be Santa's fanciest transportation option, and that he's looking through his telescope as part of a practice run, scouting out his delivery locations.
Pretty Peacock (2016)
Typically, the birds Edythe makes represent species very common in North America, like the cardinal or the oriole. She's glad that she got the chance to branch out with this one. "I've always wanted to try birds that were a little more exotic and this gave me the perfect opportunity," she says.
Made of porcelain with an etched metal overlay, the peacock has several crystals accentuating its tail feathers. She typically moves from sketches to prototype, but had to do a rough sculpt of the peacock to find the center of gravity.
"That's why his tail feathers bend backward so much, so I could distribute the weight," Edythe says. "However I do think it shows off his feathers really well."
The gold outline on the wings is a nod to Edythe's The Beauty of Birds series. "They all have a little curlicue in their wings like this fella does."
Edythe said she was inspired by heritage glass—jewelry, vases, perfume bottles, and trivets with delicate metal overlays. "I've always admired those," Edythe says. "They have that very decorative quality that appeals to me. All that stuff is floating around in my head as I design."
FUN FACT
"When we were kids, my great-grandmother would make us a plate of breadcrumbs to sprinkle in our backyard, and we'd all sit by the window watching the birds feast."
Festive Santa (2016)
Edythe worked with fellow artist Katrina Bricker on this version of the classic Father Christmas look. Edythe created the original sketch for the concept and Katrina finished out the design, which featured Edythe's metal overlay for the coat and fired-on decals.
Edythe says they make a good team in part because Katrina knows that Santa's form has to accommodate metal that will only bend one way. "We worked pretty closely on the shape. As she sculpted, I made a little pattern and it worked out really nicely."
The main challenge was the intricacy of the leaves. "There are so many little pokey leaves," Edythe says. "You have to make them connect, but not make them look stuck together."
They used a process called half-etching, which means that instead of lasering all the way through the metal it just goes in far enough to make a small impression in the surface. The gold makes quite an impression against the deep green. And naturally, there are a lot of crystals in Santa's coat. "He's full of bling!"
Jingle All the Way Santa (2016)
Katrina and Edythe also worked together on this more lighthearted Santa. "When she first showed me the concept, I really liked how fun it was," Katrina says. "I'm used to doing traditional Santas. I've done very few whimsical Santas, so it was a nice change."
His hat and coat feature bells and holly and he holds a jingle bell wreath. The trick was finding the perfect angle for the pose.
"If you want that liveliness, that sense of motion, you have to envision where that center of gravity is," Katrina says, "to make sure it looks like he's dancing or jumping when he's hanging on your tree."
Whenever she altered something—such as removing a bell or changing a color—Katrina met with Edythe to make sure they stayed true to the original vision. "I showed her what I'd done to make sure we both felt good about it."
She also wanted to make sure they left enough room for the first line of "Jingle Bells" on his coat. "That lyric was very important," Katrina says. "It had to read instantly."
Western Tanager (2015)
11th in the Beauty of Birds series
Growing up in southern New Jersey on a migratory bird route, Edythe Kegrize saw all kinds of species common to East Coast habitats. When she first started designing Keepsake Ornaments, she focused mainly on birds like the oriole, blue jay, and cardinal.
"I've mostly done East Coast birds because I'm more familiar with them," Edythe said. "But I started feeling like I should branch out a little more, so to speak."
She generally gravitates toward birds with a strong color combination. "I've done some that are more subtle," Edythe said. "But generally, I go for the ones that really have that strength of color."
That led to this year's Western tanager. She described the paint on the ornament as "opulent." The design features the distinctive blaze of white on the wing, but the look is stylized. "I try to be true to the broader markings on the bird, but it's treated in a more idealized way."
Anniversary (2015)
After 25 years of illustrating cards, Edythe knew her way around popular themes and icons. For anniversary cards, Edythe drew a lot of doves, which are known to mate for life. "So it was only natural for me to interpret that into three dimensions," Edythe said.
As with many of her pieces, the decorative touches on this piece have an idealized quality, like the silver flourishes on the wings and tail. Usually, she works by drawing as many sides of the ornament as it takes to convey shape and style so it can be sculpted by others. For something as intricate and interlocked as this, she wanted to handle the rough sculpt herself so she would know exactly how the form would translate into the final design, as well as where the center of gravity would be so it would hang just right.
"When drawing something, you can't always get a feel for that," Edythe said. "Sometimes you just have to hold it in your hands."
The porcelain doves come with interchangeable heart charms featuring milestone years as well as a blank one to add a specific year.
Ruby Red Cardinal (2015)
The first Beauty of Birds ornament Edythe created was a cardinal. This premium Ruby Red Cardinal is an intentional nod to that first bird, although the wings are more unfurled and "he's a little more gussied up," Edythe said.
The look was inspired by the timeless technique of cloisonné, in which fine golden lines give shape to colored enamel, adding detail and contrast.
"The finish on it has a great luster," Edythe said. "It has a shimmery quality to it." The elegant metal design's resemblance to jewelry reminds Edythe of her great-grandmother, who loved fancy Christmas pins. "She'd always get gussied up."
In fact, it was her great-grandmother who helped her develop her love of birds. To get Edythe out of the kitchen, she'd give Edythe a plate of crumbs to throw out for the seagulls. Then Edythe would sit at the window and watch the flurry arrive. So when Edythe came to Keepsakes years later, the first series she proposed featured birds.
"All my life, birds have been something I've collected for my own Christmas tree," Edythe said. "So it was just easy for me to think in those ways."
'Twas the Night Before Christmas (2014)
Edythe: "This was a fun project. Everybody in the studio had a category (a group of products to focus on), and ours was Santa Magic. Having seen a piece of research that someone brought in, I thought, we do books but books are flat. Wouldn't it be cool if we could have the whole three-dimensional character be the book?
We've done books with characters jumping out and we've done ornaments with books as companion pieces. But we thought we'd take the next step where the 3-D thing is the book because Santa is a plump enough guy to carry a whole book in there."
Robert: "So we put an earth magnet in there. It's strong enough to keep the whole thing together. I brought Edythe's ideas based on her artwork and I created the book first. I wanted to have the book in the shape of the Santa, and then I sculpted on top of the book cover and sculpted the backside from that. We had to get the story, the number of pages, the way it would fold just right. We also worked with our books department to get the font type right so we could get the pages right. The pages of the book are very durable. They're less like paper and more like card-stock."
"This was a classic wax sculpt. I often work digitally, but if it has more of an organic, human element, it's more enjoyable to do it in wax sculpted by hand. Plus, it makes it easier to make sure it's true to her design and still works. We have to make sure it's going to hang right, etc."
Edythe: "We were working with the idea of Santa Magic, so people thought, 'Oh it's going to have lights and sounds,' but we didn't need that because it's just the magic of the story. In the end, it felt great because a little light bulb went off, and we thought, 'Why haven't we done this before?'"
I grew up in Philadelphia. I majored in illustration at Moore College of Art and Design in Philadelphia.
Forms in nature, like seashells, flowers and seed pods, amaze and inspire me with their intricacy and architecture. I also draw inspiration for forms and finishes from art glass, vintage jewelry and ornate glass buttons.
My 24 years of illustrating greeting cards before joining Keepsakes has carried over to my ornament designs. I incorporate decorative surface designs on many of my ornaments. Even my Beauty of Birds series is more of an idealized decorative interpretation of each bird rather than a realistic one.
Beauty and elegance are traits I strive for in my work, but I also like to dabble in more playful and sweet stylings occasionally. Many of my ornaments have been inspired by childhood memories of Christmas, like baking cookies with my mom and sister, decorating the house or making handcrafted ornaments for the tree.
The best advice I was given as a young artist was to stop and really look at the world around you. Look beyond the obvious and appreciate the detail. You can find beauty in the most unexpected places.
Happy Place (when I'm being creative)
I seem to work best in a quiet space surrounded by things that visually inspire me. I work better in a visually cluttered space than one that is too neat and tidy.
I've always found that the condition of my surroundings seems to accurately reflect my brain activity.  More visual stimulation equals more creativity and brain activity for me.
Favorite Work of Art (so far)
It's very difficult to name a favorite piece.  I'd like to think it is one I haven't done yet. The ornaments in the Beauty of Birds series are probably my favorite to work on and the ones I hang on my own Christmas tree.
Knitting, sewing, beading, needle felting and chain mail are among the many crafts I like to dabble in.
News About Edythe Kegrize