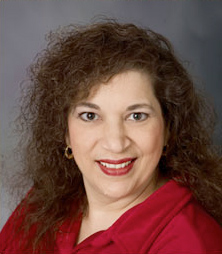 Title:
Hallmark Artist

Started at Hallmark:
March 19, 1987

Started at Keepsakes:
1985
(first two years as a freelancer)

Hometown:
Kansas City, Missouri

Horses, dogs and unicorns—typical subjects for children's artwork. But Anita Marra Rogers didn't draw like a typical child. Her mother quickly recognized that early talent, and she signed Anita up for oil painting lessons. At age 19, Anita used those paintings in her portfolio when she applied for a job with Hallmark. As good as those paintings were, she was turned down.
A few years later, a Hallmark sculptor looked at those same paintings of seascapes and landscapes. He saw talent. He told Anita that she simply wasn't doing the kinds of images Hallmark wanted. He invited her to come in and see what the Hallmark Artists were working on—whimsical animals, warm Christmas scenes, wintry landscapes. Anita tried her hand at one, sculpting a deer and a bunny looking sweetly at each other over a snow bank. As soon as her friend saw it, he told her that her Keepsake Ornament career had begun.
Hallmark wasn't Anita's first sculpting assignment. As a child, she made animal shapes out of cotton candy for her brother and sisters. There's still a touch of sweetness to every Keepsake Ornament she creates.
November 17, 2015 – Facebook
Puppy Love (2014)
24th in the series
Anita's inspiration for each new Puppy Love ornament comes from the official American Kennel Club list of dogs. She looks at which dogs are becoming more popular, always choosing an especially cute breed for her sculpt—and this year is no exception! "French Bulldogs have really grown in popularity, I have started to notice them in advertising and on TV as well."
Not everyone would find the French Bulldog's scrunched-up nose as adorable as Anita, so she added some accessories to make this pup extra kissable: If you look closely, you can see that her hanging mistletoe prop is actually a holiday headband, fit for a puppy that's ready for a smooch.
Nifty Fifties Keepsake Ornaments (2014)
By Anita Marra Rogers and Rodney Gentry

Although Keepsake Ornaments didn't make their way into stores until 1973, Anita dreamt up a few nostalgic trinkets to fit in with classic 1950s décor. Anita recalls, "A lot of times in the Keepsake Ornament Studio, we try to think 'What would Keepsake Ornaments look like in 10 or so years?' but the Nifty Fifties ornaments had me thinking about the past, and it was a long time ago!"
Anita collaborated with a number of designers to complete the box design and overall vintage look of the piece, tapping into a number of retro styles that have been growing in popularity each year.
Birch Log Snowman (2014)
Snowmen are popular holiday icons, but it's always fun to give a a classic character a new design. Anita wanted to bring out the alpine woodland charm of this snowman's birchwood body, so she added a few accessories. "I put a little snow in between the logs for glue, and I gave him a scarf and earmuffs to make him look warmer. He's got a real fabric scarf and pom pom earmuffs. I just wanted to make him look really cute."
Happy Halloween! (2013)
1st in a series
There are lots of details tucked into this spooky Halloween scene, so we went to sculptor Anita Rogers to learn about the inspiration for her design:
"Each year, I'll be creating a different pumpkin with a different Halloween character, and this first one is a cute little witch. Instead of the moon, I put her in front of some wispy clouds and gave her some sparkle. I actually designed her to look like my daughter when she was little. My daughter's older now, but she still has long brown hair and green eyes, so this little witch kind of reminds me of her a little bit! I put her in a purple dress because it's my favorite color and I think it looks pretty good with the orange."

Portrait of an Artist: Anita Marra (1989)
Becoming a Keepsake Ornament artist was a case of love at first sight for Anita Marra.
"I stepped into this place (Keepsakes), looked around and thought, 'Wow, this is what I want to do,' " Marra said, recalling a tour of Keepsake Ornaments she was given five years ago by an artist she met through a friend.
There was just one problem.  Marra never had worked with three-dimensional art.
"So I quit my job and practiced all summer with clay given to me by the same person who showed me around," she said, explaining how she taught herself to sculpt.
Those initial efforts reflected her love for animals.  Her first sculpture was a deer and rabbit. It became part of the portfolio she used to land a part-time artist's job in the fall of 1984.  The North Kansas City (Mo.) native went on to become a full-time artist in 1987.
Her affection for animals continues to be seen in her current work.  For 1989, Marra designed several ornaments that feature animals. They include: "Christmas Kitty," the first in a new series of kittens; "Merry-Go-Round Unicorn," a fine porcelain ornament in the Artists' Favorite series; and "Thimble Puppy," the last in a series of thimble ornaments.
In fact, "Thimble Puppy" even features the face of Marra's own basset hound, Little Honolulu.
Such a personal touch, says the 30-year-old artist, adds to the enjoyment of her job.  That, and the chance to see people buy something that she has made with her own hands.
"You know, that's one of the neatest parts," Marra said.  "I can go into any Hallmark store and see my work on the shelves.  It makes me feel proud."
News About Anita Marra Rogers