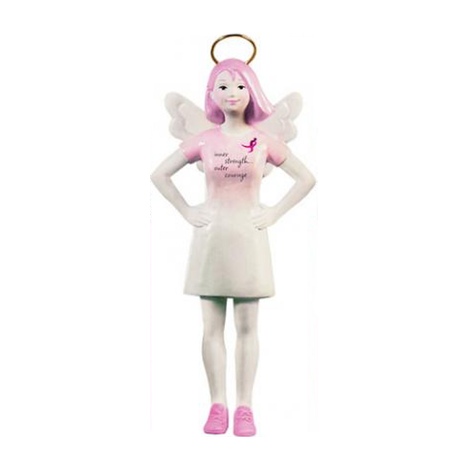 It's in her stance. It's in her look of determination. It's in her clear-eyed gaze and the way she holds on to what's real and what matters and lets go of what holds her back. It's in her spirit. Strength. It's what makes her beautiful.

From July 14 to December 25, 2009, $2 from the sale of this ornament will be donated to Susan G. Komen for the Cure to support breast cancer research and community outreach programs. For breast health or breast cancer information, contact 1-877 GO KOMEN (1-877-465-6636) or visit www.komen.org.

The Angel of Strength ornament supports the Cards for the Cure® Hallmark Gold Crown® Store program, which guarantees a minimum donation of $200,000 to Komen for the Cure in 2009.
Benefiting Susan G. Komen for the Cure®
Artist: Joanne Eschrich and Julie Forsyth
Released: 2009 (Ornament Premiere)
Retail Price: $15.00 USA
Material(s): porcelain
Dimensions: 2" h.
SKU: QXG6665
Produced in: 
Production Date(s):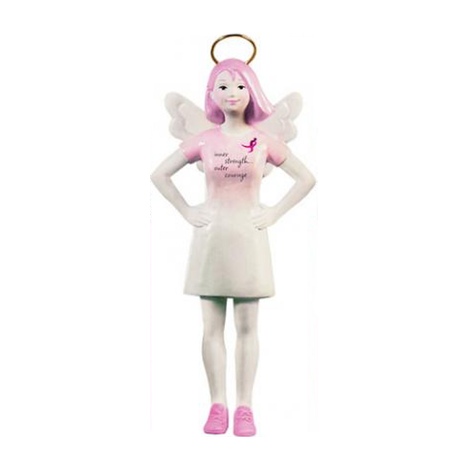 Benefiting Susan G. Komen for the Cure®

Artist: Joanne Eschrich and Julie Forsyth
Released: 2009 (Ornament Premiere)
Retail Price: $15.00 USA
Material(s): porcelain
Dimensions: 2" h.
SKU: QXG6665
Produced in: 
Production Date(s):