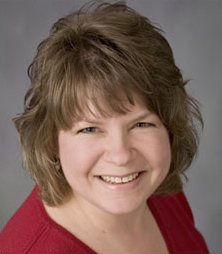 Title:
Hallmark Senior Artist

Started at Hallmark:
June 29, 1988

Started at Keepsakes:
November 1996

Hometown:
Kansas City, Missouri

Tammy Haddix has been drawing for as long as she can remember. Her mother was the first to discover Tammy's talent at an early age. Unfortunately, her mom found it on countertops and in closets. The kitchen projects were washed away, but the closet creations were another story. Her mom, an artist herself, loved them so much that the artwork stayed up for decades.
It didn't take long for little Tammy to decide on her career goals. When she was 5 years old, her mother took her along to a Hallmark store. Tammy was so impressed by all the beautiful artwork that she declared her intention to work for Hallmark right then and there.
Tammy inherited her artistic abilities from her mom. After Tammy's colleagues saw her mother's intricate cake-decorating talents, the Keepsake Studio Artists decided to use the designs in the 2005 Spring Keepsake Ornaments.
Tammy joined the Illustration Studio, and that's when her interest in sculpting began. In addition to her regular drawing assignments, Tammy did freelance work for Keepsake Ornaments, which eventually won her a spot on the Keepsakes staff. Her work can still be found in closets, but only because they're in storage until next Christmas.
A World Within (2017)
3rd in the series
Miniature
Tammy Haddix has many fond memories of visiting her grandma's house in Oklahoma City. One of her favorite things? A vintage Christmas ornament collection.
"She had these simple yet beautiful glass ornaments," Tammy says. "I have a few of them that were rescued from her home." The ornaments were saved after a tornado destroyed the house but spared her grandma, Tropha, and her Aunt Joyce, as well their collies. They had taken shelter in the bathtub. Somehow the bathroom was the only room in the house that wasn't damaged!
Tammy created the A World Within miniature ornament series in honor of Tropha, who passed away several years ago. "I try to think about what she might like when I create concepts for this series," Tammy says. "It's very meaningful to have some of those ornaments as a remembrance of her."
Before she starts sketching, Tammy imagines all the shapes and the right amount of space they may need to have a scene carved into them, especially considering the ornament is only about an inch tall.
"I love creating little worlds like this," Tammy says. "I love terrariums and things like that—any scene you can create that draws the viewer into it."
For this year's ornament, she picked a natural pairing: a pinecone and cardinal.
The cardinal sits on a branch and is attached to the back of the silvery inside with a tiny peg. She added texture as a nod to her grandma's ornaments. And she extended the branch needles a little beyond the edge of the pinecone to give it a little more depth.
Then she added glitter because, well, "It's just one of my favorite things to do."
Wee Little Gnome (2017)
Miniature
Remember the book Gnomes from the late 1970s? It's one of Tammy's all-time favorites.
Originally published in Dutch in 1976 before appearing in English about a year later, the book treated gnomes as real creatures. Author Wil Huygen and illustrator Rien Poortvliet described their habits and habitats in encyclopedic, almost biological, terms. Tammy remembers disappearing into those pages for hours.
"I've loved them since I was child," Tammy says. "Gnomes are my thing!" She even has a little gnome garden in her regular garden at home.
This miniature ornament was designed as a companion piece of sorts to the A Home for a Gnome 2014 ornament that featured a mushroom-shaped gnome house under a plastic dome. She wanted to give him a slightly different look than a lot of the gnomes that exist in popular culture, who tend to appear bemused or even a bit scary.
"They're supposed to be these ornery characters, but mine are not," Tammy says. "I just wanted him to be really friendly and sweet looking." She's also fond of the red and white amanita mushrooms, like the one he's holding.
"They're really cool and pretty, like they're from a fairy tale," Tammy says. "But they're poisonous, so don't eat one if you see one!"
Li'l Holy Family (2017)
Miniature
The look for this miniature nativity scene was inspired by the stylings of Mary Hamilton, a Hallmark artist for 60 years who passed away this January. Tammy did the sketch and Keepsake Artist Katrina Bricker did the sculpting.
"I really wanted this to be a sweet and endearing scene," Tammy says, "with them gazing down at baby Jesus."
The manger and baby were sculpted separately from Mary and Joseph. The halos were also sculpted as individual pieces and then attached with tiny pegs, which can be very hard to do when they're that small. Tammy says, "Sculpting miniatures can be a real challenge. And it gets harder, as I get older, just to see them!"
Joseph's staff is painted wire. The hair features pearlescent paint. "We just wanted to give them a little glow," Tammy says. "A nice little religious glow."
Frosting Friends (2016)
9th in the Making Memories series
Why do so many of Tammy Haddix's creations look like they came from Santa's bakery? It's because artistic sweetness runs in her family.
"My mom is a cake decorator and has been for a very long time," Tammy says. "My sister and brother are cake decorators, too. They were always helping and learning from her."
Every Christmas Tammy's family made gingerbread houses together, a tradition she continued with her own kids. It's no surprise she was able to capture those memorable parent-child moments in this adorable ornament.
"I like to show the things you like to do with your kids at Christmas. That way people can really relate to it when they see it," Tammy says. "I really tried to focus on the interaction, capturing the moment when that memory is being made."
In this scene, the younger character appears to be sneaking one of the candies from the roof of the gingerbread house, which makes both characters smile. That was a frequent occurrence in her household.
"It was always more fun for them to eat the candy than decorate," Tammy says.
The recurring snowflake icon from the series appears as a floor tile underneath the characters. "One year I cupped it and made it into a sled," Tammy says. "Last year, they were ice skating, so I made it look like ice."
The aprons feature real hand-tied bows on the back, and the characters are covered in glitter, one of Tammy's favorite things to add: "It just makes it more magical!"
Santa's Sweet Ride (2016)
10th and Final in the series
Nine years into the Santa's Sweet Ride series, Tammy realized she'd used a lot of cool vehicles but never a sleigh. This year, the choice was easy.
"Let's do a sleigh and a reindeer to go with it," Tammy thought. "So he's kind of riding off into the sunset."
Tammy always starts with a sketch. After that, she roughs out the design in jeweler's wax, carves the ornament and molds it in resin. Then she hand-paints the mold, which always makes her feel a bit like an elf in Santa's workshop.
"That last part is really fun," Tammy says. "That's when it really comes to life."
Tammy also spends quite a bit of time researching different kinds of sweets to make sure they look authentic. The sleigh appears to be made out of iced gingerbread. The presents in the back are sugar cubes covered with icing ribbon. Santa's hat looks like the tip of a pastry piping bag, an element that appears on every ornament in this series.
And even though it's the last one in this particular series, watch for a fun new twist on Santa's Sweet Ride—a brand-new magic ornament—coming in 2017.
Santa's Sweet Reindeer (2016)
Limited-quantity companion ornament
Who's coming along for the ride with Santa? A candy reindeer, of course! And this reindeer includes as many candy variations as Tammy could imagine.
He has gumdrop feet, candy-stick legs, a striped-gum saddle, fruit-leather ears, peppermint antlers and icing around the neck and on the tail. The head looks like chocolate and the body appears to be a chocolate cake roll.
Observant Keepsake Ornament fans should be able to spot the candy reindeer somewhere else, too. He also appears as a miniature on a 2016 magic ornament. He's one of many characters featured in A Sweet Surprise, which plays Christmas music and features a Northern Lights-style display.
A Little Frosty Fun (2016)
When Tammy was little, she used to draw underneath countertops and in other out-of-the-way places so she wouldn't get in trouble.
Somewhere in those old sketches might be a tiny snowman just like this. This miniature ornament was inspired by the Frosty Fun Decade series. As with so many of her other characters, she added blush to the cheeks because it adds warmth, friendliness and a touch of whimsy.
She loves doing miniatures but finds them tougher with the passing of time.
"He's about an inch tall, so the hardest part is just seeing the details," Tammy says. "They're getting smaller, but my eyes aren't getting better!"
Marshmallow World (2014)
"This one has Dean Martin singing 'It's a Marshmallow World,' which I'm not sure a lot of people have heard of. It became a favorite of my family's when my sister, my mom and I were Christmas shopping, and that song was playing. We all fell in love with it. So when I had the opportunity to do this Magic ornament, I thought to do an ornament with a cake design using that song. On the ornament itself, there's a snowball fight with lights tracing back-and-forth, and there's a light on top that makes the snowman light up."
Mommy To Be (2014)
"I was sculpting this when my niece, Hannah, was pregnant. So I was thinking of her and what would be cool as a mommy-to-be. Snowmen are already round, and so I decided to have her cradling her belly like many pregnant women do. It kind of coordinates with my Making Memories series. You could place this ornament with the Making Memories' ornaments if you wanted to."
Frosty Fun Decade (2014)
5th in the series
This snowman is the first to be on his belly, so you can see his chubby little butt and feet sticking out with little snowflakes on the bottoms. You can do so much with snowmen and create such fun situations!
Family Cupcakes (2014)
"All of these ornaments are inspired by my family. My mom was the cake decorator of the family. She decorated cakes for us using cake pans, and now she does all of these sculpted cakes. Now she and my sister have a cake decorating business together. My family actually competed on the 'Ultimate Cake Off' on TLC…twice.
(When creating these ornaments), my sculpting abilities came in handy. I just had to adjust to using icing and fondant. I didn't let the other team know they were up against a professional."
FUN FACT
"The Family Cupcake ornaments were inspired by my family. My mom was the cake decorator of the family. She decorated cakes for us using cake pans, and now she does all of these sculpted cakes. She and my sister have a cake-decorating business together. My family actually competed on 'Ultimate Cake Off' on TLC…twice."
Frosty Fun Decade (2013)
4th in the series
"Each of the Frosty Fun Decade Keepsake Ornaments has the year made out of snow. I did the last decade series, titled Cool Decade, in which the numbers were made out of ice. I started this series by sketching, because I have to show that the concept works for the full decade. I love creating snowmen since you can do so many different shapes, sizes and personalities—and I do a lot of snowmen! I have to add glitter to any snowman I make and, of course, I get covered, too."
"The snowmen all have different hats or winter gear, so this year the numbers come out of his top hat. The colors in this series are always cool colors like blue and purple, and the repaints are always red and green. This makes the repaint really different and special."
Snow Buddies (2013)
16th in the series
"Before I was in the Keepsake Studio, I had designed some gift wrap with snowmen and animals on it. When I began working in the Keepsake Studio, the art director from gift wrap had also joined the Keepsake Studio, and we agreed that we needed to do those snowmen as an ornament. That's how the series began."
"This Snow Buddy is wearing an Eskimo-inspired coat with fur-lined hat, and he is with his polar bear friend. Each year features a different animal. The series started with woodland animals, and the first one was a bunny. Then we started running out of woodland animals, so I switched to polar animals. I try to match the snowman's outfit to the animal, and I also watch the trends in outerwear. I try not to repeat any of the outfits."
Reading is "Snow" Much Fun! (2013)
6th in the Making Memories series
"This series is all about the things we do with our children at Christmastime. It's about the memories we make! This year's ornament highlights one of my favorite activities that I used to do with my boys—reading!"
"We decided to pull a real book into this ornament, and you can even see the inside spread there. 'There's Snow Stopping Us Now' was a book and plush combo in stores last year. The cat and the dog take turns popping up in this series. A lot of people have cats or dogs, so I chose to add them to make it feel even more like a family."
"The scarves are made with real ribbon, which is a nice touch we've been able to keep through the whole series. There's always a snowflake base and their little rubber snow boots, which really ties the whole series together."
I was born and raised in Kansas City. I went to the Kansas City Art Institute and studied illustration for 4 years.
I am inspired by my entire family and the moments, big and small, we have had together. We have a whole new generation of little ones joining the family now, so it really refreshes my point of view of the world. I want to create things that become meaningful to someone.
Snowmen, Santas and anything cute! I always strive for what I call the "aww" factor. If someone sees one of my pieces and says "aww," then I have succeeded! I love capturing in my work the times we spend with those we love and the times that many of us have in common and can relate to and want to remember.
In a painting class at the Art Institute my instructor Jim Paul, a former Hallmark artist, took my tiny brushes and handed me a 1-inch-wide brush to paint with. He told me I got too bogged down in the details and couldn't see the whole picture. It was scary at first, but then I was able to express through my art. This has affected me in many ways throughout my life. I try not to focus so much on the tiny details and see life in a broader, more open way.
Happy Place (when I'm being creative)
My favorite place to work is in my studio at home. I have a fish tank on my desk where my cute little green spotted puffer named Bubbles lives. He swims back and forth watching me work, and he makes me smile! I am constantly looking for ideas everywhere around me. Thank goodness for my note app on my phone; that has a super long list of ideas just waiting to be acted upon.
Favorite Work of Art (so far)
I have many favorites, for many different reasons. I always look forward to creating ornaments for Making Memories, because I love capturing the moments between parent and child. Snow Buddies is special, because it is the first series I started, and it is still going on 20 years later. It was inspired by gift-wrapping paper I painted when I was an illustrator. It is fun to see how it has changed over the years.
At home I have my husband Rick, who is an electrician, and my two boys, Zach, who just graduated and enlisted in the U.S. Navy, and Ben, who is 14 and into doing everything—fishing, golf, baseball and camping. We have a labradoodle named Baxter, who is a sweet and funny pooch. My husband and I love to do projects together. Our most current is remodeling the kitchen. We also love to garden and go antique shopping.