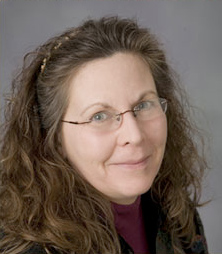 Title:
Former Hallmark
Production Designer

Started at Hallmark:
April 2006

Started at Keepsakes:
January 2007

Hometown:
St. Joseph, Missouri

Valerie buys her grandchildren paint-by-number sets, it does more than just save her more expensive supplies from misuse—it reminds this veteran Keepsake Ornament artist of when she was first inspired to try painting herself. "My mom used to do those all the time. I was about 5 or 6 when I remember her doing one for her mother…she was very patient about it!"
The art gene is particularly strong in Valerie's family. Parents, children and grandchildren are all creative in their own ways. Although her husband's job brought her to Kansas City, it was her husband's uncle, who worked at Hallmark, that gave Valerie the final push she needed to begin her career.
After working in engraving for a number of years, Valerie returned home to raise her children. She did freelance work for the Keepsake Studio when she had the time, which made joining the studio years later like more of a homecoming than a new job!
Valerie is particularly enthusiastic about working with her hands. "Sculpting is my favorite. When I was in fifth grade, I fell in love with sculpting and I have had a passion for it ever since." Her bubbly personality and devotion to her craft is seen in each of her Keepsakes, whether it's one of her more adorable creations or a detailed sci-fi scene.
"Arena" (2013)
Star Trek™
Star Trek aficionados will be happy to know that this year's "Arena" Keepsake Ornament was in the safe hands of a true fan.
"I love Star Trek, so this was one ornament I really wanted to do! I sculpted the characters on the computer, so I got to print them out in 3D and pose them to make sure everything fit together well. The real challenge was making the rock look real—that's what I like the most. I wanted it to have a nice texture that felt like limestone."
Cat O' Lantern (2013)
"Black cats seem to always look the same, so I wanted to make this whimsical little guy more of a scaredy cat. Glow-in-the-dark eyes were added, and he's got these cute little whiskers. I like him because he was so much fun to make. I filled in the big wax shapes and carved away what I didn't want. I used to work as an engraver in greetings, so I got to put those skills to good use here."
A Kitchenette For Christmas (2013)
Valerie's experience as a Sunday school teacher may have given her the inside scoop on what children love filling their kitchen sets with the most.
"A little girl was bringing me these little plastic cakes from her play set and I just knew—she was living my ornament!"
The detailed additions to this itty bitty kitchenette include an especially sweet pair of cherry plates that Valerie designed and painted. Peek inside the oven and you'll find a miniature cake that adds an extra helping of love.
News About Valerie Shanks