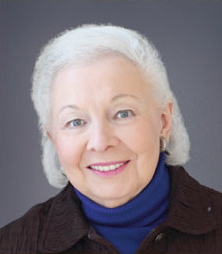 Title:
Hallmark Master Artist
(Retired)

Started at Hallmark:
1955

Hometown:
Keytesville, Missouri

Over the company's long history, there have likely been hundreds of women named Mary employed by Hallmark. But if you had strolled through the art department at any time over the last 50 years and asked for Mary, you'd almost surely have been directed to just one woman. In the history of Hallmark artists, there's really only one Mary.
Mary Hamilton was born in tiny Keytesville, Missouri, but her family moved to Kansas City when she was still a girl. The summer after high school graduation, she won a yearlong scholarship to the Kansas City Art Institute. She also applied for a job at Hallmark but was asked to come back after finishing her courses. On June 13, 1955, she returned to Hallmark with her slim portfolio of artwork. She was hired on the spot.
Mary began her career at Hallmark sketching flowers and finishing other people's art. But soon she was creating her own illustrations from start to finish. Though adept in a variety of media, Mary perfected a signature style of watercolor that is instantly recognizable.
Often starting with a light pencil drawing, she paints over her sketch in light, "washy" watercolors, blending the subtle colors and adding darker tones that define each piece in just a few strokes.
"I try to put accents in each design to pop the little character or shape out of the background," she says. "I paint with a feeling in mind. I never have any set pattern. You learn to do it without quite realizing how."
Hallmark artists know that rendering emotion in brush strokes is tricky—and nearly impossible to explain. But Mary's colleagues recognize that her ability to produce an "aw" response with her innocent, sweet-faced waifs and little animals is what most endears her to fans—and generates the hundreds of fan letters she's received in her career.
For the first time in 1988, a sweet, cherubic figure named Buttercup adorned people's Christmas trees. Buttercup was the first of the iconic Mary's Angels series that became loved by Keepsake Ornament collectors for 25 years. The series was inspired by Mary's greeting card art and has been sculpted throughout the years by Keepsake Artist Robert Chad.
"After all this time, Buttercup still is one of my very favorites. It's very pleasing to me that people like them so much," Mary says. "They are not childlike, they are ageless. They make the heart feel good when you look at them. And from the beginning, I thought that Chad had really captured the drawing in the ornament. The face and the sweet, little eyes…Chad did the right thing."
Through the years, Mary has created hundreds of the whimsical characters for Hallmark greeting cards and gift products, but she has gained her greatest renown for her signature bears. In 1997, her artistic achievement was showcased in her own line of products. The "Mary's Bears" line included cards, stationery, albums, plush bears, a tea set, ceramic plates, mugs, books, a puzzle, gift wrap, and stickers.
Though she's become a Hallmark icon whose work remains in constant demand, Mary Hamilton is still the same dedicated, self-effacing artist who came to Hallmark, portfolio in hand, in 1955. And she still strives to grow and learn new techniques. When art directors ask for work that is looser, less detailed than her previous illustrations—in keeping with current trends—Mary delivers.
"I never want to say I've done it all," Mary Hamilton says. "I like the challenge of coming up with something different than the last time. As long as the emotion is there, I always want to try new things."
Adapted from Hallmark—A Century of Caring by Patrick Regan
Sweet Little Trick-or-Treater (2016)
So, funny story…shortly before Mary Hamilton retired late last year, Robert wanted to see how she'd feel about taking the beloved Mary's Angels and trying a few Halloween versions. He brainstormed a few ideas, one of which was Mary's Devils. Not surprisingly, longtime churchgoer Mary was not exactly excited about it.
Robert chuckles when he recalls the exchange.
"I was pretty gung ho about the idea," Robert says. "And I thought, well, maybe I should just go upstairs (to her ninth-floor space at Hallmark's headquarters) and make sure she's okay with this."
Sure enough, she said she didn't really want her name attached to something that turned her sweet angels into little devils.
"We respected that," Robert says. "Her name is on these, and she's such a sweet person."
The basic idea of giving the angels a Halloween twist remained. They just became a little less…devilish.
"I started to see the cloud as a pumpkin and the character dressed up for trick-or-treating," Robert says. "I've got a long list of costume ideas for these, if we keep doing them."
Zinnia (2016)
29th in the Mary's Angels series
Since working on his very first Mary's Angels ornament 30 years ago, Robert has designed every single one in the series. Through the years, he's developed plenty of experience adding subtle variations. And since it's one of the most popular series in the Keepsake Ornaments line, he wants to make doubly sure the fans are getting something special every time.
"I've got sketchbooks upon sketchbooks of different situations, and every year there are three or four finalists that our team picks from," Robert says.
Each angel is named for a different flower (Zinnia this year) and the color of the clothing reflects that flower. He created this year's ornament as somewhat of an homage to vintage china dolls (the angel is holding its own doll).
"It's a sketch that's been around for a while," Robert says. "I just keep coming back with things I think are relevant."
Robert didn't meet Mary Hamilton, the legendary Hallmark illustrator and original creator of Mary's Angels, until three years into working on the series. After 60 years at Hallmark, Mary recently retired, but over the years, people often told her how much they loved her angel illustrations and the ornament versions as well. Robert said Mary was quick to point out that the ornaments were inspired by her work but that Robert designed them.
"She has always been so gracious."
Mary's Angel Surprise (2016)
Robert felt a little nostalgic when he saw this year's Mystery Ornament, a golden-winged version of the very first Mary's Angels ornament he designed 30 years ago. Back then, Robert freelanced for Hallmark and hoped to get a wing in the door, so to speak.
"It was my trial by fire," Robert says. "At the time, I was barely a sculptor. It took me 10 weeks to make this."
Until that point, Robert had worked on stuffed animals and Hallmark's Little Gallery figurines, which is how he first heard about a job opening in the Keepsake Studio, known back then as Trim a Home.
"All that started to change around the same time that I started," Robert recalls, adding that the Keepsake Ornament Club is also about to turn 30.
What was the studio like back then? Well, it was long before rough sculpts and final designs could be finished out digitally. And although he has done a few of the Mary's Angels designs digitally, he still prefers the tactile quality of working with wax.
"It's what these things were made for," Robert says, holding up his hands. "Pushing a pen or moving a mouse is fine, but to me it just never feels quite the same."
And speaking of tactile rewards, whoever buys this ornament won't know if they'll get a "golden ticket" version (gold versus silver wings) until they open up the box!