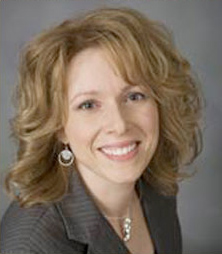 Title:
Hallmark Artist

Started at Hallmark:
March 1994

Started at Keepsakes:
February 1995
Hometown:
Erie, Pennsylvania

Katrina Bricker always knew that art was what she wanted to do. No doubts, no questions. She credits her mother, an art teacher, with instilling her creative joy.
Of course, being that focused at such a young age can pose concentration problems in other areas of school. Most kids like to doodle, and this budding creative did it to the exclusion of getting her assignments finished. Why learn states and capitals when you're going to be a great artist? She once had to stay after school to do a geography worksheet and got into trouble for spending all her time drawing in the margins of the paper. That same teacher later gave Katrina her first public recognition as an artist—a prize for creating the best Thanksgiving bulletin board display in the school.
Katrina first tried sculpting in third grade, with her rendering of the comic strip character, Garfield. Later, in her high school senior year, she did a project involving another of her lifelong interests—horses—which turned her full attention to sculpting.
All that youthful dedication has matured Katrina Bricker into a consummate Keepsake Artist.
France Angel (2016)
Angels Around the World series
Keepsake artists work far in advance. So when the team chose France as the next destination for Angels Around the World, they had no idea about the tragic events that would take place in Paris in November, 2015. Since then, the emotions brought out by this year's angel have been hard to ignore.
More than a year ago, when Katrina began the project, she simply wanted to capture the charm of traditional French clothing and pay tribute to Paris as the international city of love—hence the colors of the flag stitched into a heart shape on the apron. For the outfit, she found inspiration in historical garments from Nice, to which she added red, green, and gilded accents.
In one hand, the angel holds an iris, France's national flower. Her wings feature fleur-de-lis, a stylized iris. She added gilded accents to reflect the country's attention to architectural detail. "France is just so rich in its visual history and such a beautiful place to honor with this ornament—especially now."
Festive Santa (2016)
In addition to sculpting her own designs, Katrina loves to collaborate with other artists. For this porcelain and metal ornament, Katrina finished a concept by Edythe Kegrize.
"I really love working with her," Katrina says. "She's a wonderful artist."
When she saw the rough concept, Katrina immediately liked how Edythe's design reminded her of the Santas Around the World series.
Edythe says the distinctive aspect of this design, as with most of her creations, is the decorative surface designing. "I'm drawn to simple forms with rich surface design detail."
The Father Christmas-style silhouette gave them plenty of room to add a metal, gold-etched overlay and red crystal berries on Santa's coat. Adding gold on the collar and cuffs, then pairing all of that with the red mittens, says Christmas instantly.
One challenge was Santa's facial features. "If you don't pay close attention to the cheeks and eyes, he can look like he's squinting or like his moustache and beard have taken over his face," Katrina says.
To create all that detail, she uses the same trusty tools she's been using for years. And she takes very good care of them. "You coddle them because you get so used to working a certain way, knowing which tool to grab to produce a certain look."
Jingle All The Way Santa (2016)
Katrina and Edythe also worked together on this more lighthearted Santa. "When she first showed me the concept, I really liked how fun it was," Katrina says. "I'm used to doing traditional Santas. I've done very few whimsical Santas, so it was a nice change."
His hat and coat feature bells and holly and he holds a jingle bell wreath. The trick was finding the perfect angle for the pose.
"If you want that liveliness, that sense of motion, you have to envision where that center of gravity is," Katrina says, "to make sure it looks like he's dancing or jumping when he's hanging on your tree."
Whenever she altered something—such as removing a bell or changing a color—Katrina met with Edythe to make sure they stayed true to the original vision. "I showed her what I'd done to make sure we both felt good about it."
She also wanted to make sure they left enough room for the first line of "Jingle Bells" on his coat. "That lyric was very important," Katrina says. "It had to read instantly."
FUN FACT
"I love to create ornaments—the feel of the wax in my hands and the challenge of working with it until it looks the way I envisioned it in my head. My goal is to make it into something that will help someone make a good memory or put a smile on someone's face."
I grew up in Lawrence Park, a small township just outside of Erie, Pennsylvania. I studied at Columbus College of Art and Design in Columbus, Ohio, graduating with a major in illustration and minor in advertising. It was an instructor at my college who first introduced me to Keepsake Ornaments. After touring Hallmark, he told his 3-D illustration students about how Keepsake Ornaments were created. I thought, "That's what I want to do." I started building a portfolio tailored to becoming a Keepsake Ornament artist. I started working as a Keepsake Artist right out of school in 1995.
Many things inspire me, but I especially like looking at the work of other artists. My first sculpture was of Garfield, the comic strip character, in third grade. Now, I also enjoy looking at rustic sculptures, maybe because they are such a contrast to the Disney characters I usually create.
Most of my work for Keepsake Ornaments has been on Disney princesses. I've always had a soft spot for Disney because my dad loved Disney. I've been to Disney World 13 times and find it magical every time. Working on Disney characters allows me to revisit my fond childhood memories. There's just something about that idyllic "happily ever after" that fascinates me.
A visiting artist at my college once told me to only put artwork in my portfolio that I love to do. If you hated working with pastels, then don't add them to your work. Otherwise, you'll end up being hired to work with a medium you dislike.
Happy place (when I'm being creative)
My studio looks out on a field that is filled with all kinds of animals—deer, rabbits and coyotes. I like to have something playing in the background while I work. It's usually audiobooks of period pieces like Jane Eyre.
Favorite Work of Art (so far)
I have to say Little Mermaid is among my favorite Disney princesses that I've sculpted. I think I identify with her a little more than the others. When I was younger, I had long red hair. And where I grew up near Lake Erie, fishing was a major pastime.
I live in a suburb of Kansas City with my husband and two kids. Even though we don't live on a farm, we have six chickens. We enjoy eating the eggs, but it is really more of a thing we do as a family. It's great fun to watch them, and it's really not as hard as you might think.
News About Katrina Bricker