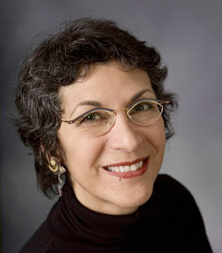 Title:
Hallmark Artist
(Sculptor V – Retired)
Started at Hallmark:
1997

Started at Keepsakes:
1998 
Hometown:
New Jersey
Julie Forsyth has loved dance her entire life, so it's only natural that she's the go-to sculptor for the twirling beauties that emerge from the Keepsake Ornament studio each year. Her true passion for dance is woven throughout each step of her creative life—from designing costumes alongside choreographers to studying the various poses in her free time. She admits that some of her best years have been spent watching her own daughter dance.
Only a true dance aficionado would pick up on the proper turn-out pose in Julie's various ballerina Keepsake Ornaments—as a collector noticed. And that's that kind of collector comment that really brings a smile to her face. As Julie puts it, "We're the only species that does anything like dance on the planet! That's something to be proud of."
Julie's family picked up on her natural artistic abilities in the first grade when she sculpted the spitting image of the family dog. She continued her creative pursuits throughout high school and went on to work at an animation studio in New York. Following in the footsteps of her sister, a fellow designer, Julie made the move to Kansas City and started a job at Hallmark. The two siblings eventually worked side-by-side in the Keepsake Studio where Julie continues to bring her delicate designs to life each year.
Simple Gifts (2014)
1st in the Marjolein's Garden series
Fans of Marjolein Bastin's wonderful watercolor designs have come to Hallmark for years to see her classic florals in gift books, home décor and Keepsake Ornaments. Bastin's work has made an appearance on a few Keepsake Ornaments over the years, but this year's new series features a hand-sculpted three-dimensional design by Julie Forsyth.
Julie and a few other artists in the Keepsake Ornament Studio were able to take a very special trip to see the home and personal studio space of painter Marjolein Bastin. "She passed around some of her original artwork and we got to see her work a little bit," Julie recalls, "It was so fun to meet her." The beautiful style and warmth of Bastin's home was an instant source of inspiration for Julie's work on this first ornament in the Marjolein's Garden series.
Collectors interested in this series should keep an eye out for the intricate details that Julie has incorporated in her design. She used new materials to keep the flowers light and lovely, while hand-painted petals and a delicate hemp rope tie the whole look together. Upcoming Keepsake Ornaments in this series will feature all kinds of wintery woodland friends, like the black-capped chickadee perched on this painterly watering can.
Ballerina Dreams (2013)
"It's always fun to do ballerinas because I have a background in dance. My mother had been a dancer, I danced when I was a kid and my daughter had ten years of dance experience. So, having sat through a lot of ballet classes, I'm kind of fussy about poses and how they're depicted. It's a beautiful art and I enjoy sculpting the ballerinas. This ballerina has a skirt, so I had to make sure that the fabric we chose was soft enough to drape properly and not stick straight up like it was hooked to a hula-hoop!"
Cinderelly! Cinderelly! (2013)
Disney's Cinderella
"This was a traditional sculpt that I did with wax. I had images, research and color palettes for this ornament from Disney—but of course I watched the movie for inspiration, too. I had to know which mice were doing what, what they were wearing and how many of them there were! There is also a little bit of fabric ribbon to add more detail. I raised kids, I was a kid myself, and I've got grand-kids, so Disney's a part of our family."
Beautiful Ballerina (2013)
"I went with a traditional ornament shape for collectors who like a traditional tree with glass ornaments, ball ornaments or finial ornaments. It was fun! I worked with an engineer who helped design the finial ornament shape itself. It's much faster to work in partnership with someone who knows what they're doing when it comes to the technical stuff. I added paint, glitter—as much bling on there as I could. I make sure my daughter gets all of my ornaments. She has a special tree for all her dancers and favorite ornaments!"