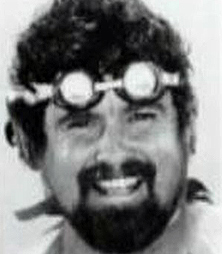 Title:
Former Hallmark Artist
Started at Hallmark:
1979
Jim Mahon was an art director for the Jim Henson Company beginning in the 1980s, overseeing merchandise and projects like Muppet Magazine. Mahon was also given credit as a design consultant for the Muppet Babies characters.
Mahon was the graphics director for the video game The Gelfling Adventure and helped design many products, including the unproduced Miss Piggy Spirit of the Telephone. In later years, he was involved in the Kermit the Frog statue at the entrance to the Henson studio.
Earlier in his career, Mahon designed and sculpted Hallmark ornaments, including the first two entries in their long-running "Frosty Friends" series, with a smiling Eskimo celebrating the holidays.
FUN FACT

Twenty five years ago Hallmark's "Frosty Friends" was given birth by an artist named Jim Mahon, who also sculpted the second in the series.
- Ed Seale (2004)