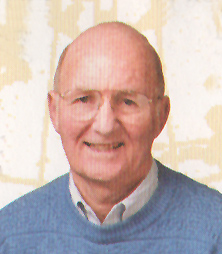 Title:
Retired Hallmark Artist

Started at Hallmark:
1977

Started at Keepsakes:
1978
Hometown:
Clay Center, Kansas
Duane Unruh, the Hallmark Galleries and Keepsake Ornament senior designer, appreciated the victories of his second career as much as the many "wins" he achieved as a high school athletic coach for 24 years.  He left coaching to become a Hallmark artist in 1977.
"When I was growing up, my whole life centered around sports.  My father was a college and high school coach for 40 years, and I followed in his footsteps," Unruh says.
Hailing from rural Kansas, Unruh has always enjoyed the subjects and situations portrayed in traditional Christmas situations.
Unruh has no formal training as an artist, but even as a child, he knew he could make things with his hands.  "During the Depression I made many of my own toys out of necessity.  Even then I knew I had the special gift of artistic abilities," he says.
For a former football coach with no formal education as a sculptor, Unruh has sculpted some of the most graceful Keepsake Ornaments ever offered.  In 1986 it was the Magical Unicorn that touched collectors' fancy.  And in 1994 that same skill was demonstrated in Unruh's Collector's Club exclusive design, Majestic Deer.

EXCERPT FROM 2015 INTERVIEW

"I'm a retired, old geezer who loves the Lord Jesus, and I am so exceedingly grateful for the multitude of blessings and gifts He has so generously given me in my lifetime, especially a wonderful wife and children and many grandchildren and even great grandchildren."
At 81, Duane Unruh doesn't let this late season of life, nor his Parkinson's disease stop him from fulfilling God's plans for him. Creative and faith-filled ambition drive this soft-spoken gentleman to achieve what some might consider impossible at his age and with his condition. And He would be quick to tell you…it's all God.
What is/are your creative passion(s)?
My passion is to form figures with my hands and tools in wax or clay for casting in bronze, pewter, porcelain or directly sculpting in wood.
How are you using your creative gifts?
Most recently, helping to execute the design for The Hope Memorial for the Salvation Army and the people of Joplin, Missouri. (Duane sculpted the 3 ft. x 7 ft. hands of God out of wood rafters taken from the Salvation Army Thrift Store site in Joplin, which was destroyed by the May 22 tornado.)      
What message do you try to communicate in your creative work?
The challenge is to successfully create a story with the work. I Iike to say, "I sculpt relationships." Whether there is one person or animal or more than one, the subject is always relating to someone or even something. What I try to communicate with the work is what the subject is feeling by his/her facial expression, body language, or various gestures with the hands. A sculpture is mute, and the only way it tells a story is by what one sees. For example, the expression of anguish on Jesus' face while He is praying in Gethsemane and the tension in His shoulders gives us His mood of the moment.
What is your ideal environment for creating?
My ideal environment is just to have some good classical or praise music on, some wax or clay in my hands, an idea in my head, and some hours ahead of me.
Where do you get your inspiration?
My inspiration for the last ten or more years has come from the scriptures, which describe the episode of the subject, such as Jesus praying in Gethsemane from Luke 24:41-44, Jesus washing Peter's feet from John 13:6-8, or the Madonna and Child from Luke 2:19.
Who has been a great influence on your life?
My Dad has been a tremendous influence in my life, and of course, the Lord Jesus has been the greatest influence in my life.
Describe the ultimate opportunity in your line of work.
The ultimate opportunity in my sculpture career has been the Ted Nissen memorial, "Let The Children Come," based on Matthew 19:14, which features three children with Jesus, cast life size in Bronze (see image at right). The Hope Memorial ranks right with it.
What advice do you have for other artists and creatives on their journey?
Try several avenues of creativity in an area that you feel like God has gifted you. Then when you feel that you have discovered the general area of your gifts try something beyond what you feel you can do. If you feel the fire to spend days and nights at that piece of work you may have discovered what God wants you to do with your gift. Continuous prayer and listening for his call is most essential as you seek it.
FUN FACT
Duane's life-sized sculptures of "Let the Children Come" can be found at both campuses of the Colonial Presbyterian Church in Kansas City and Overland Park.
FUN FACT
In 2003, after retiring from Hallmark, Duane started his own business "Duane Unruh Designs" featuring his work in fine quality pewter. The first collection was a 12-piece "Christmas Nativity."
Undergraduate and Master's Degree in Education from the University of Kansas.  Duane had no formal artistic training.
"We all face great opportunities disguised as impossible circumstances."