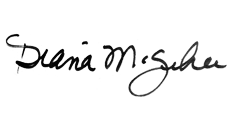 Title:
Former Hallmark Senior
Production Artist


Started at Hallmark:
December 1977
Started at Keepsakes:
1983
Hometown:
Lee's Summit, Missouri
Like most artists, Diana began designing at a young age. When she was five, she started painting gravel from the driveway and sold it at the curb—two pieces for five cents! Later, she made and decorated elaborate houses out of shoe boxes and designed clothes for her dolls.
She received an art scholarship and graduated from college with a degree in Graphic Arts. After an internship, she was hired by Hallmark in 1977 as a production artist for the book department. In 1983, she was asked to join a new business called Trim A Home, which became Keepsake Ornaments. She loves working with 3-D art and assisting artists with their artwork preparation. She also ensures that the manufacturers have what they need to produce an ornament correctly.
Her favorite ornament for 2013 is "I Will Trust in the Lord." She was able to create the stained glass window art behind the choir. "My inspiration came from the old stained glass window at my church. When the building was torn down, I was able to have part of a window. I spent many a Sunday looking at those beautiful colors!"
When away from work, Diana likes to spend time with her family and friends.